holly jolly santa cookies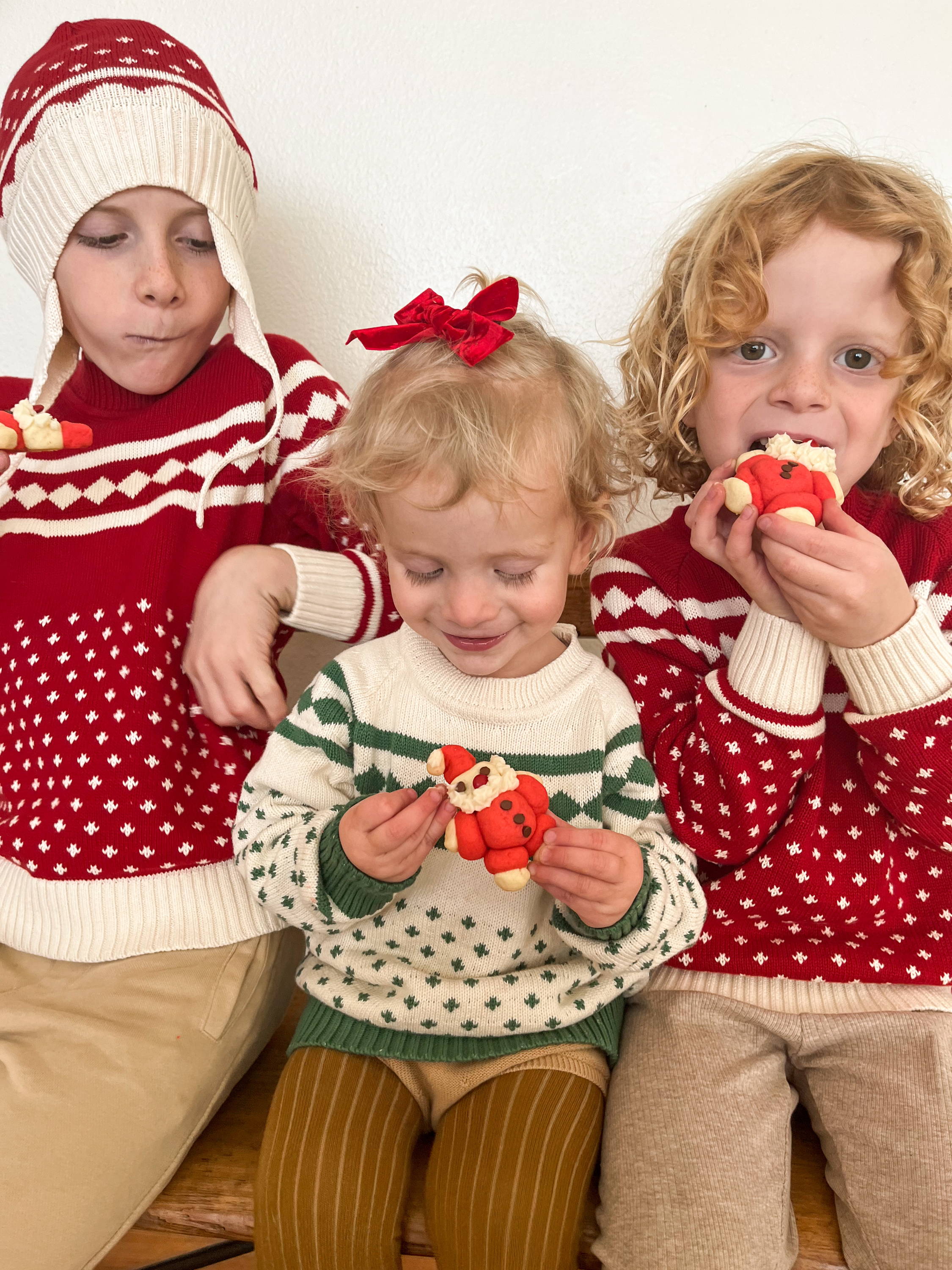 sweater weather is better together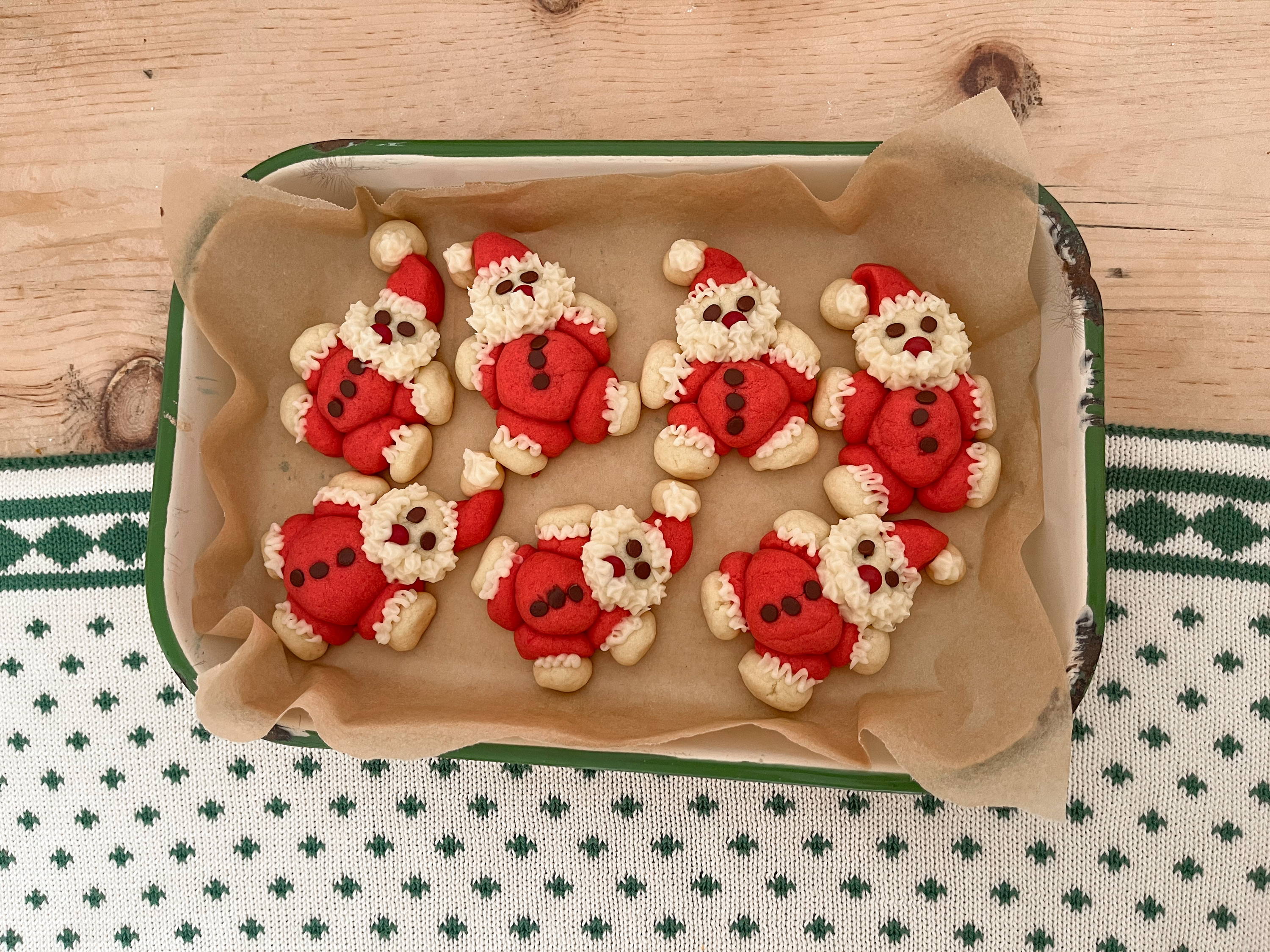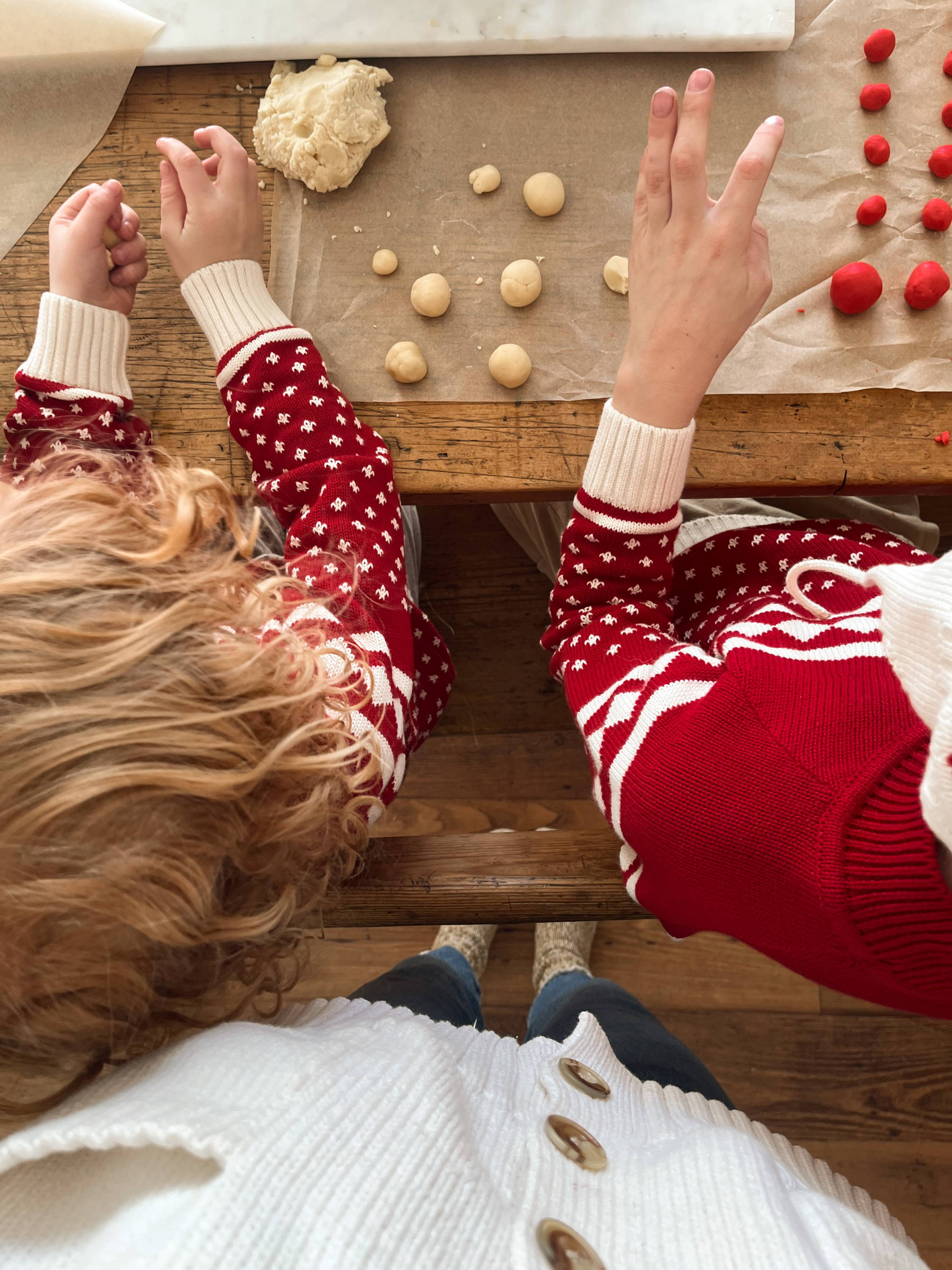 Holly Jolly Santas
Recipe by Half Baked Harvest
Ingredients
2 sticks (1 cup) salted butter, at room temperature
1/2 cup granulated sugar
1 large egg, at room temperature
2 teaspoons vanilla extract
2 1/4 cups all-purpose flour
1/2 teaspoon kosher salt
1-2 teaspoons red food coloring
mini chocolate chips (for eyes and buttons)
mini holiday M + M s (for Santa's nose)
Cream Cheese Buttercream
1 stick (1/2 cup) salted butter, at room temperature
2 ounces cream cheese, at room temperature (optional)
1 teaspoon vanilla extract
1 1/2 cups powder sugar
1. Preheat the oven to 350 degrees. Line 2 baking sheets with parchment paper.
2. In a large mixing bowl, cream together the butter, sugar, and vanilla until light and fluffy, about 3-5 minutes. Add the egg and beat until combined. Add the flour, and salt, beat until combined, and the dough begins to form a ball.
3. Remove 1 cup of the dough and set aside. With the remaining dough, add in 1 teaspoon red food coloring, adding more if needed for better color. Keep in mind that the color will darken over time.
4. From the red cookie dough, make 1 (1-inch) ball and 5 (1/2-inch) balls. From the plain cookie dough, make 1 (3/4 inch) ball and 5 (1/4-inch) balls. You will have a body, head, hat, four red arms and four white hands and a white ball for the top of the hat. I find it easiest to make all the parts first, then assemble.
5. On the prepared baking sheet, place the red 1-inch ball, gently flatten until 1/2 inch thick. Attach four of the red 1/2-inch balls for arms and legs. Next, attach the plain 3/4-inch ball for a head, gently flatten until 1/2 inch thick. Attach the plain 1/4-inch balls for hands and feet. Shape the remaining red 1/2-inch ball into a triangle for a hat and attach it. Repeat with remaining dough, arranging the cookies 2 inches apart on the baking sheet. Add chocolate pieces for eyes and buttons (see above photos for visuals, this will help!).
6. Transfer to the oven and bake the Santa's for 12-15 minutes, until lightly golden
7. To make the frosting. Add the butter and the cream cheese to the bowl of a stand mixer and whip until extra light and fluffy, about 3-4 minutes. Add the powdered sugar and vanilla. Beat together until whipped, about 2 more minutes.
8. To decorate. Transfer half the frosting to a piping bag fitted with a small tip. Or, take a ziplock bag and snip a very small portion of the corner off the bag. Use the bag to go around Santa's face, arms, and legs. Put a small dot on the tip of his hat and then place one red mini M&M on his face as his nose.
https://www.halfbakedharvest.com/holly-jolly-santa-cookies/#wprm-recipe-container-26316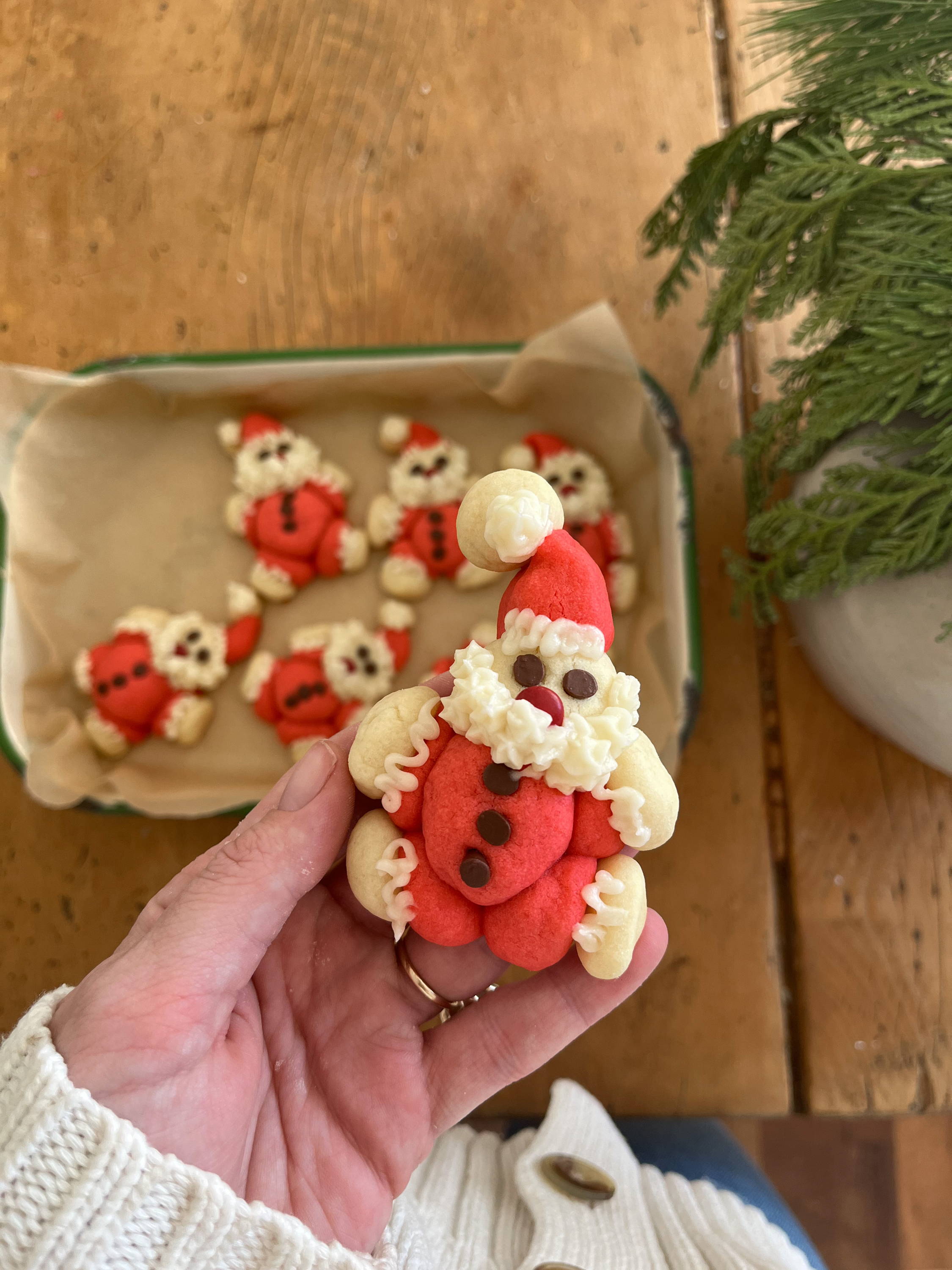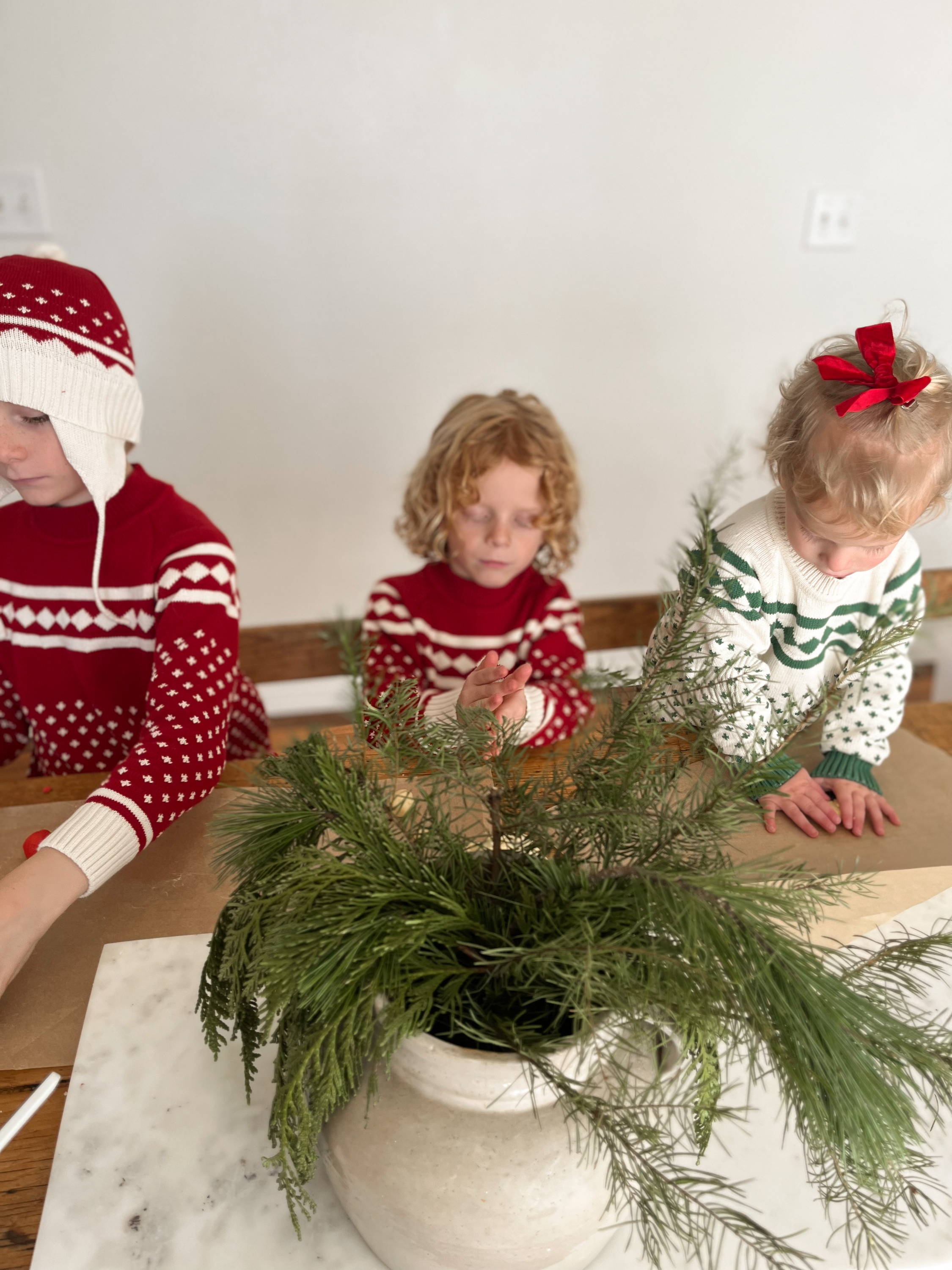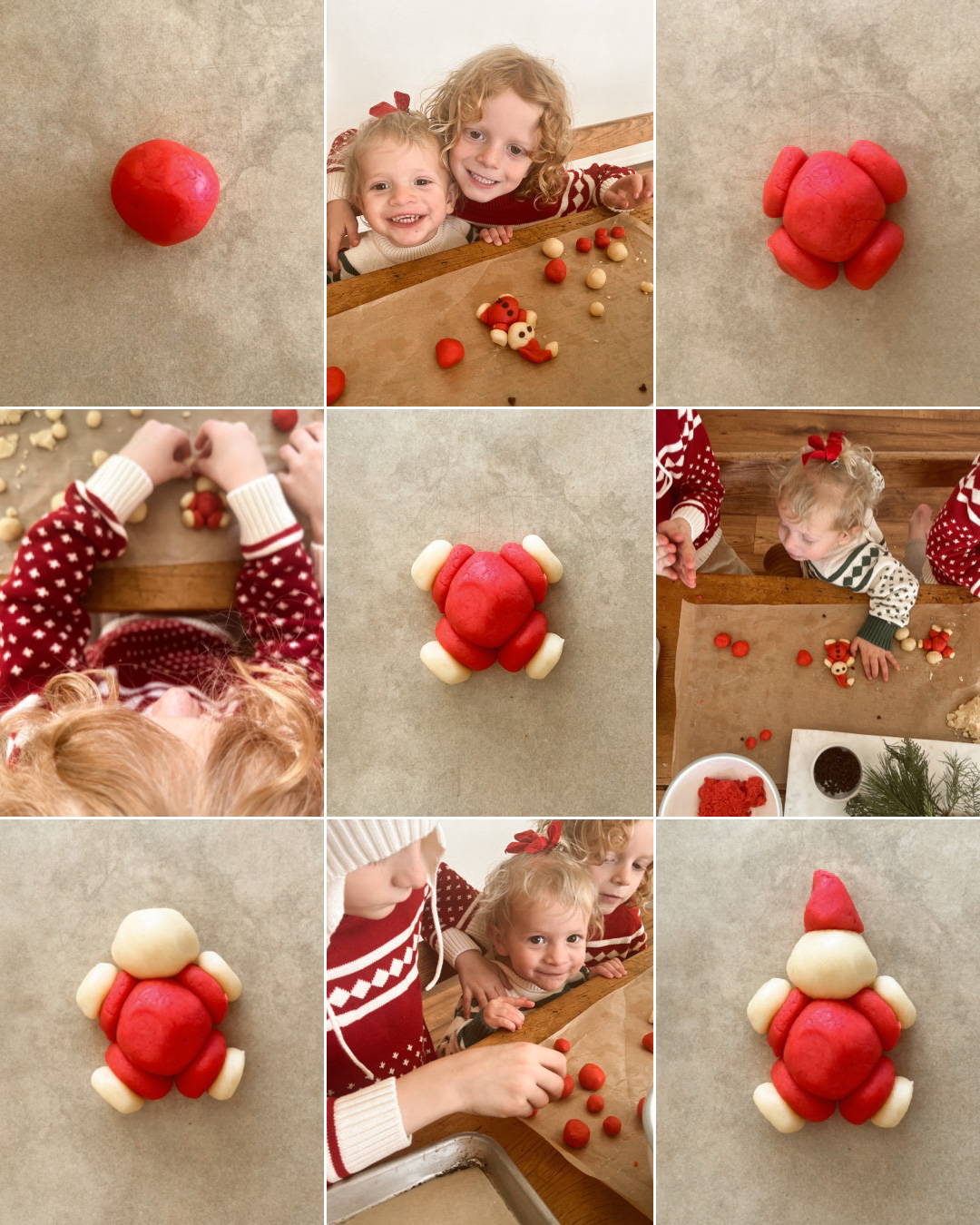 make it a december to remember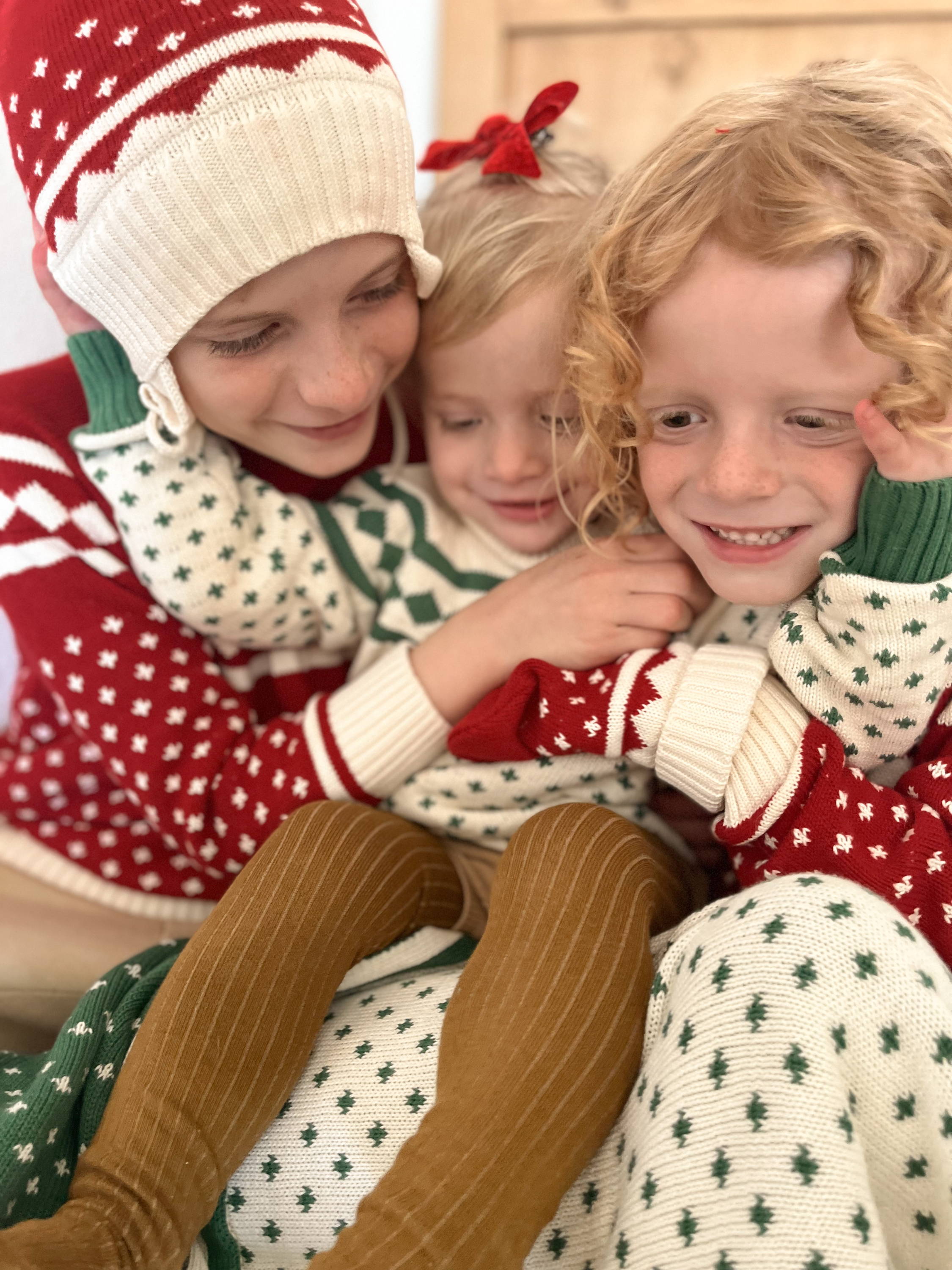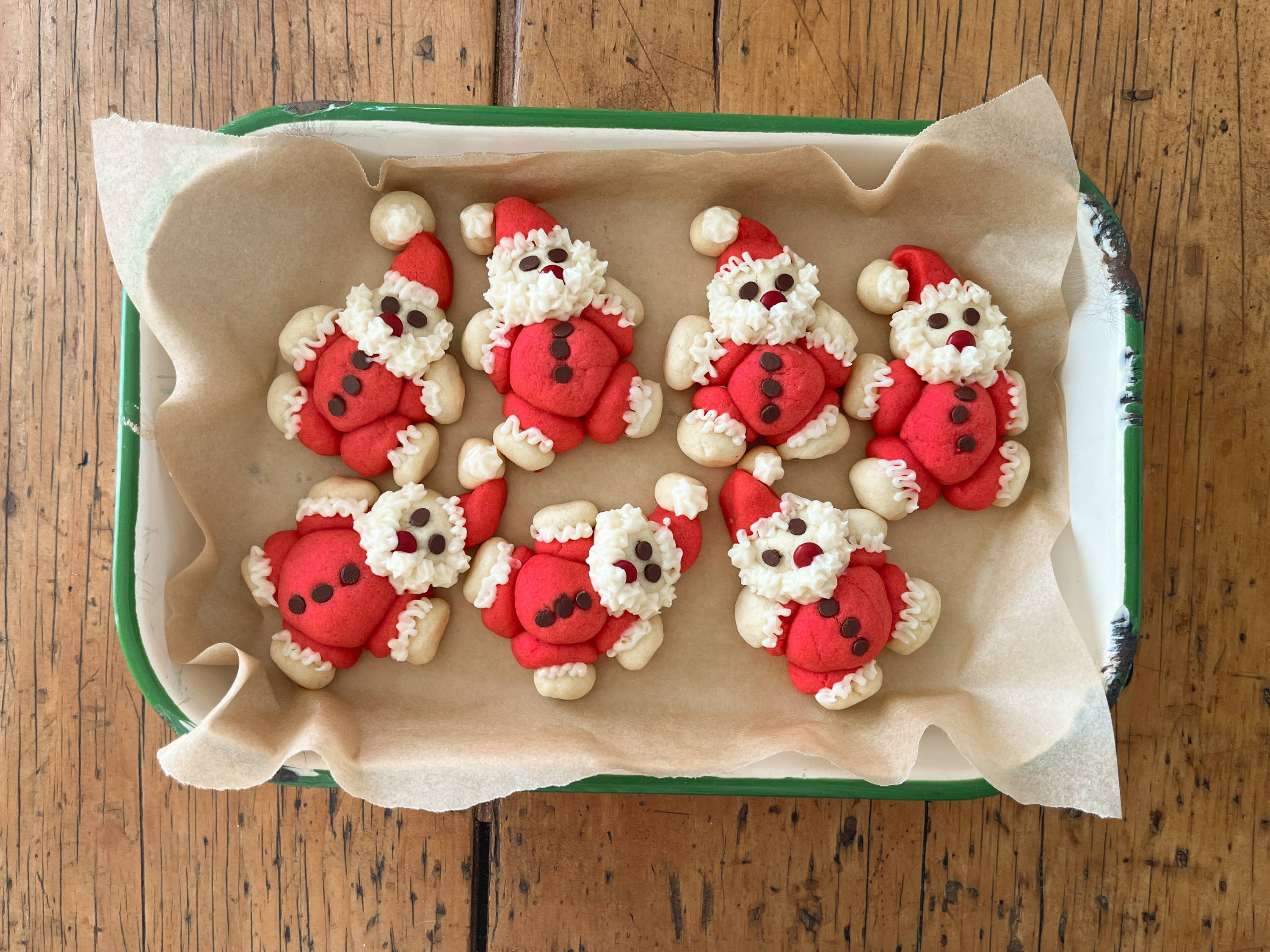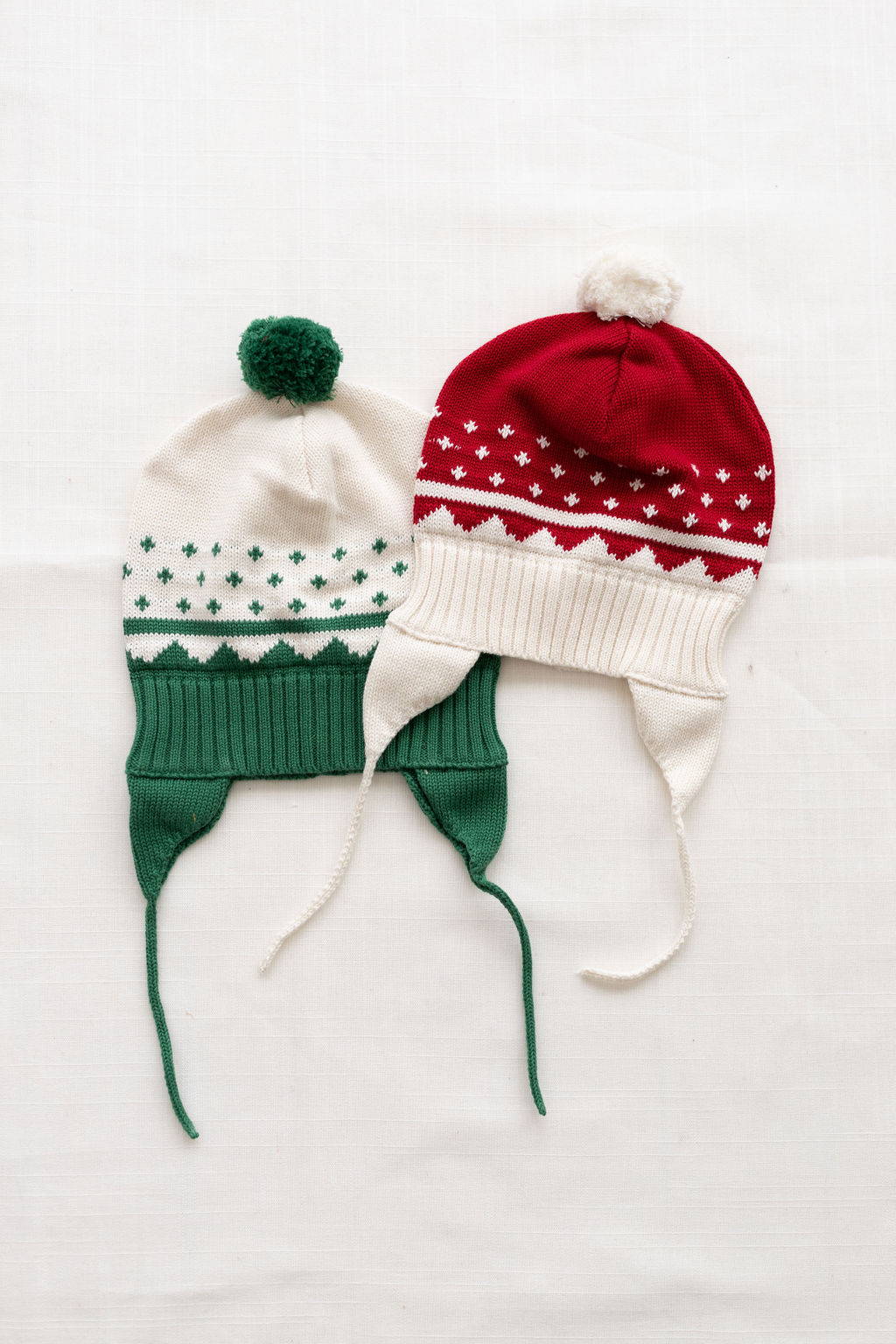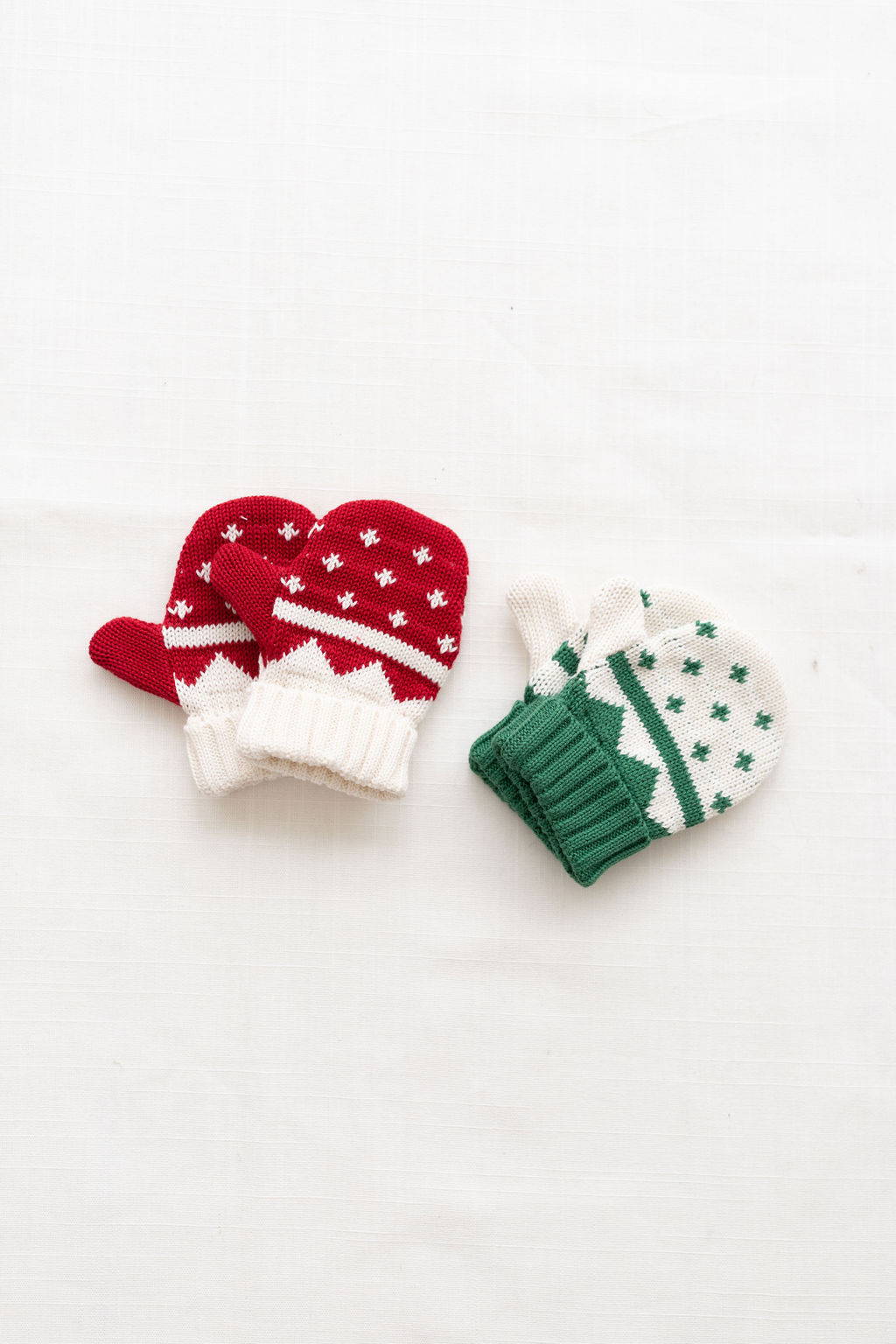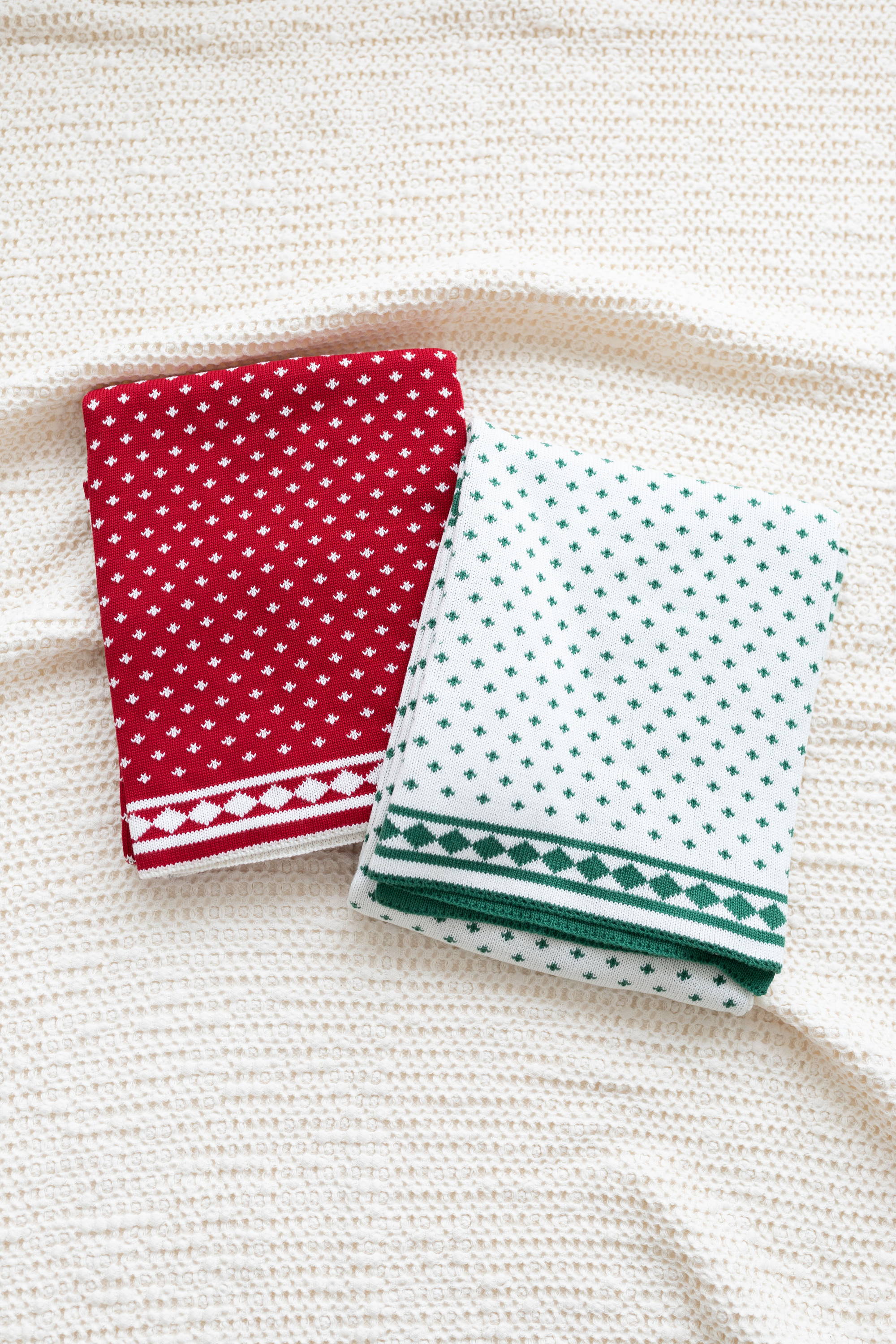 all pieces available now with our Holiday capsule collection